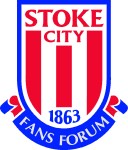 Fans Forum Press Release
05th May 2005
Following the recent statements from Stoke City Football Club and Stoke Holdings, it is clear that from a supporter's point of view we are now thrust into a period of total uncertainty regarding the team and the Club that may last just a few weeks or many months.
This particular situation is not new to most of us, but that doesn't reduce the anxiety or frustration that the present situation is causing.
Clearly, the close season now takes on a different dimension and a real worry amongst the supporters is that any funding made available to the Manager to strengthen the squad may not now be as much as anticipated given the Clubs present circumstances. It is vital that the 'right buyer' for the Club will emerge and that they are able to reassure the supporters that Club and its financial future is not at risk.
The efforts to seek out the right buyer or buyers should take precedent over any policy or any desire to sell the Club as quickly as possible without due consideration of the Clubs future and the concerns of the supporters.
Terry Hughes the Fans Forum Chairman says " At the very least the supporters need total re-assurances that team strengthening will still take place this close season, it is particularly critical now for two major reasons, one is the transfer window restrictions and secondly, and far more importantly, because the fear is that we now might now become serious relegation candidates well before the new season starts"
In a time of crisis we the supporters need to pull together, The Fans Forum is urging all supporters groups to unite in their efforts, particularly during this period of uncertainty, but also in the future, the events of the last two weeks have highlighted that supporter complacency and apathy can be taken unawares at a moments notice.
Terry Hughes says, " I hope this present situation will register with all supporter groups that action needs to be taken now to seek supporter assurances from the Club, not just in this present situation but also for the long term future of the Club and its Fans.
The Fans Forum will be in close touch and maintain regular dialogue with Stoke City throughout the close season to appropriately represent the supporter's views and concerns until the matter is resolved.
In the interests of all Stoke supporters who I'm sure are worried about the events that are transpiring down at the Britannia Stadium, Terry Hughes says that " he urges fans to now take the opportunity of actively getting involved with the major supporters groups who will be instrumental in representing the fans during this period of uncertainty at Stoke City.
Terry Hughes the Fans Forum Chairman