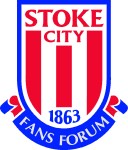 Fans Forum Press Release
28th April 2005
Following the statement that Stoke Holdings are now offering all of their shares for sale and once again throwing the future of the Club into uncertainty, an uncertainty that we as supporters have had to contend with for many seasons and not just this latest potential thunderbolt!
I think its fair to say that once the Icelandic Consortium took over the Club there was a substantial up turn in the optimism of supporters, gradually that optimism has been disappearing season after season during the last five and a half years, even though the Club did eventually gain promotion, the events prior to that achievement and since, have hardly been according to the script by any stretch of the imagination.
The much-publicised division within the Board has probably given many supporters the feeling that what has just been announced was an inevitability, and as such, may not have come as a complete surprise to anyone.
The Consortiums dream never really came to fruition, and the obvious lack of appropriate funds for investment in the team, once promotion to the Championship league had been achieved, has been painfully apparent during these last two seasons.
During the tenure of the Icelandic Consortiums involvement with the Club, personality clashes have dominated throughout, this current development is obviously one clash too far for the Club to viably sustain or ignore, and whilst there must be some degree of sympathy with the Icelandic investors, The Forums main concerns are for the supporters, and the Football team, and then the Club, and sadly 'yet again' we the supporters are finding ourselves in a situation of uncertainty that many of us have witnessed before.
So a new chapter in the history of Stoke City Football Club is about to be written, there have been many mistakes in the past to learn from, the million-dollar question is….Will the required new investors be able to learn from those mistakes any better than the retreating Consortium? Will they have the sufficient funding to address what was appearing to becoming an ever-increasing restriction on the progress of the Club? We will have to wait and see.
Terry Hughes
Chairman Fans Forum