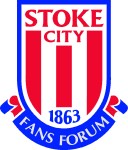 Fans Forum Release 4th March 2005
Working in Patnership

Welcome to a new SCFC Team, although this time we are talking about Stoke City, the Fans and the City Council: as a result of meetings initiated by the Mayor Mike Wolfe.

Terry Hughes says

"As Chairman of the Stoke City Forum I'm pleased to announce the emergence of a new off the pitch team that has one main, and important agenda item":

"THE SUPPORTERS!"

In this partnership initiative, we will be addressing a whole host of problems, some in fact that have been inherent from day one of the Clubs relocation to the Britannia Stadium.

We are all aware of the publicised traffic and parking problems encountered when visiting the Stadium on match or event days, particularly the frustrations of traffic congestion following the end of a game or event.

The Council are keen to explore the possibility of several imaginative Park and Ride schemes. Following consultation with Stoke City and the Fans Forum the Council are now going to undertake a complete traffic management survey of the Trentham Lakes road systems, and match day car park entry and exiting which have always been prone to traffic congestion on every match day and event.

This is maybe the first of a number of projects that all three parties wish to pursue, in this partnership of mutual co-operation which will benefit the supporters and users of the Britannia Stadium. Ultimately, the benefits of each project should have a positive impact on the City of Stoke on Trent and from the Fans Forum point of view and Stoke City Football Club

Terry Hughes continues

"I think that it's fair to say that all those involved with this new partnership initiative are looking to making the visiting of the Britannia and the City, a pleasant and enjoyable family attraction.